Board Certified Behavior Analyst, Emily Sagendorf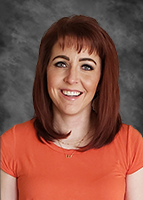 Emily Sagendorf has been working with behavior for over 8 years. She earned her certification as a Board Certified Assistant Behavior Analyst in 2015 and knew helping families change problematic behavior was her passion. She continued her education and experience by obtaining her Social Service Worker certification with the state of Utah. She then went on to complete her Master's at the University of Utah in Special Education with an emphasis in Behavior Analysis. She became licensed as a Board Certified Behavior Analyst in 2017. For many years, she was the behavior director for a statewide ABA agency helping families with challenging behaviors. She then went on to work for agencies in Virginia and New Mexico. She has also continued her experience working with military families through TriCare funding. 
She is excited for the challenge of working with so many students as she loves working with students and teachers in the education setting to create successful learning environments. 
Contact Emily by email: emilys@sedck12.org