Board Certified Behavior Analyst, Emily Sagendorf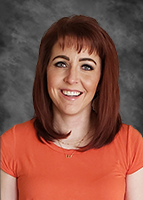 Emily Sagendorf has been working in the behavior field for over 10 years. She has earned her BCaBA, BCBA and SSW licenses. She has a bachelor's in Family Life Studies from Utah State University and a master's of Special Education with an emphasis in Behavior Analysis from the University of Utah. Emily's focus has been children from 2-18 years old and she specialized in Autism and high problem behaviors. As a Behavior Analyst, she has worked in private practice, with insurance programs, national providers and in the school system. She has had amazing mentors along the way and feels that she learns something new from everyone she meets. 
Her favorite area to implement behavior change is in the school because there is such great possibility for success! She loves sharing her experience with teachers and professionals. She is also an adjunct professor at Southern Utah University where she teaches upcoming teachers about behavior management in the classroom. 
Contact Emily by email: emilys@sedck12.org