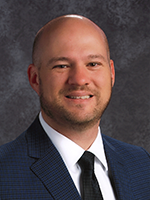 Joe B. Wright has been the Executive Director of the Southwest Educational Development Center since 2018. Joe B. was born and raised in Kanab, Utah. He is a graduate of Kanab High School, Southern Utah University, Northern Arizona University, and Northcentral University.  He holds a Bachelors degree in Social Science Education, a Masters degree in Educational Leadership, a second Masters degree in Marriage and Family Therapy and is currently pursuing an Educational Doctorate degree in Educational Leadership and Technology. He has experience as a teacher, Athletic Director, Elementary School Principal, Special Education Director, and Superintendent.  Joe B. and his wife Staci have two beautiful daughters and two adorable sons. 
SEDC's mission is to provide educators with the services that will allow them to spend their time wisely in creating and presenting excellent classroom instruction, assuring that the students of today receive the skills they need for tomorrow. SEDC strives to successfully meet the needs of students and teachers, promote achievement, and provide for economy and efficiency in the cooperative delivery of educational services that are identified and requested by member schools and Executive Board Members.
Our goal at SEDC is to help educators and administrators identify their needs and to assist in providing the avenues to meet those needs. Our team is continually seeking out new resources and knowledge while implementing best practices to deliver services and learning opportunities in a variety of mediums.
Joe B. has completed the certifications below: