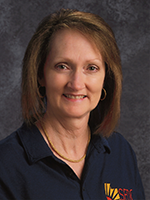 Selene Corbridge is the Office Manager for Southwest Educational Development Center in Cedar City, UT. She is responsible for the daily operation and activities of the center. These responsibilities include; tracking of revenue, accounts payable and receivable, requisitions for purchase orders, preparing payroll, preparing invoices for assessments, and monitoring employee contracts. Selene prepares correspondence for SEDC's Executive Board and keeps minutes for their monthly board meetings.
In addition, Selene is the Administrator for the Southwest Sterling Scholar program. This includes managing budgets, planning board meetings, scheduling and working to have everything run smoothly.
Lastly, Selene is a welcoming presence in the office. She answers phones, greets visitors and maintains a professional atmosphere for those who visit and work at SEDC.