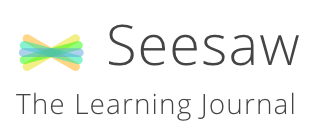 Seesaw is a new platform available for the iPad, Android devices, as a Chromebook app or on any computer with Chrome or Firefox. It empowers students of any age to independently document what they are learning at school. Students capture learning with photos and videos of physical work, or by adding digital creations. Everything is uploaded and kept organized for teachers. With support for QR code sign in for younger learners and email/Google account sign in for older students, Seesaw works in any K-12 classroom.
With Seesaw:
Students can "show what they know" using photos, videos, drawings, text, PDFs, and links. You can also import directly from most popular apps.
When students add to their Seesaw journal, content is uploaded, organized by student, and immediately accessible to teachers from any device. Seesaw makes it easy for students and teachers to review progress over time and demonstrate growth.
Browse work from the entire class, or for a single student. Optionally, use folders to organize work by subject area or project. Teachers can flag items for follow up or to review at parent-teacher conferences.
Encourage reflection and provide an authentic audience.
Strengthen connections between school and home.
You can learn more about what Seesaw can do here, as well as learn how it is being used in schools.