Systems Engineer, Scott Harpster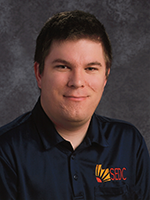 Scott Harpster has been with SEDC since 2011 and prior was an intern for 3 years. He provides support to district technology directors as well as offering support in data backups, wired and wireless network evaluation, security camera implementation, data synchronization, VoIP phones, content filtering, firewalls, DNS, network monitoring, Aspire technical support, virtualization, Active Directory, and security.
He holds a Bachelors degree in Information Systems, a Masters degree in Cyber Security and Information Assurance, both obtained from Southern Utah University.
Contact Scott at (435) 586-2865