Technology Integration, Professional Learning & Data Specialist, Clint Stephens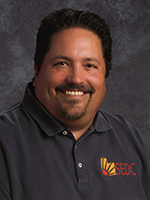 Regional Technology Integration Specialist Clint Stephens brings twelve years classroom experience to SEDC. Clint was awarded the Utah Middle School Science Teacher of the Year award by his peers and also won several technology innovation grants & awards. He has taught secondary science in Escalante, Hurricane and Salt Lake City, and has been helping teachers in the SEDC region for over 14 years.
If you would like Clint to provide a technology training at your school, make a request to your Principal or district technology coordinator. They will work with Clint to get you the tools and knowledge you need to successfully integrate technology into your instruction.
Have a date in mind? Take a look at his calendar.
Looking for his blog? His training resources, tutorials, and handouts are available at http://edtech.zone or follow him on Twitter.
Clint has completed the certifications below: